The name John Raphael has been given to four generations of Montana Quigley men, which could make the telling of this tale a bit confusing. Kitty Ann Quigley Taaler, the daughter of Frontier Town builder John Quigley, explains that there was no John R. Quigley III or IV; the "Sr." and "Jr." were simply assumed as the generations passed away.
For our purposes, the name John R. Quigley Sr. (1834-1913) will refer to the gentleman pictured below. He's the Quigley that came to Montana in 1864, settling in Blackfoot City. We'll refer to his son, the Avon-area rancher, as John R. Quigley, Jr. (1877-1947). He's the father of John R. Quigley (1915-1979) who built Frontier Town, whom we'll refer to as John Quigley. We'll call John Quigley's son "Jack", as did his family.

| | |
| --- | --- |
| | JOHN R. QUIGLEY, SR. |

John R. Quigley Sr., John's grandfather, was born of Irish immigrant parents in Logan County, Virginia in 1834. In 1845, the young family moved to Wisconsin. There, John attained two years of college education, taught school, and was deputy sheriff for three years.
In April of 1864, he packed three wagons and left Wisconsin, heading west to the Montana Territory. He arrived at Virginia City three months later. He opened and operated a store in Virginia City for a year before heading north to Blackfoot City (later called Ophir), which was located just north of Avon Montana, in the foothills of the Rocky Mountains.
His store in Blackfoot City prospered for several years before he sold out and returned briefly to Wisconsin, "in search of a wife". The trip was unsuccessful in that regard. He had better luck the next year, and married Catherine M. Seeley on May 1, 1870.
The couple returned to Blackfoot City, where John opened a store and post office, and began purchasing land, eventually owning some 1600 acres. Quigley was active in the Democratic Party in both Deer Lodge and Powell counties
Seven children were born to the couple: Anna, Raymond, Mary, John R. Jr., Tom, Helen, and Harriet (Knudson) who started the Lincoln Memorial Gardens in Springfield, Illinois. All the children were born in Blackfoot City, except Raymond, who was born in Wisconsin. John R. Quigley, Sr. died in October of 1913 at the age of 79. Catherine died in May of 1926, aged 82.They are all buried in Hillcrest Cemetery in Deer Lodge, Montana -- except Harriet, who is buried in Springfield.
John R. Quigley, Sr. with some of his fellow Montana pioneers, 1911. Quigley is standing in the back row, fifth from the left. • CLICK TO ENLARGE •
| | |
| --- | --- |
| | Click for a new window with tales of the Quigleys' life in old Blackfoot City, as told by their granddaughter, Kathryn McKenzie Price. |
| | Click for a recent satellite view of the site of Blackfoot City (Ophir), Montana. |


JOHN R. QUIGLEY, JR.

1877 - 1947

KATHRYN MANLEY QUIGLEY

1890 - 1920

1920 MONTANA HOUSE OF REPRESENTATIVES RESOLUTION COMMEMORATING THE DEATH OF KATHRYN QUIGLEY - CLICK TO ENLARGE

John R. Quigley, Jr. was born in Blackfoot City in 1877. He was a sucessful Avon area rancher, and in 1905 represented Powell County in the Montana House of Representatives. In 1907, aged 30, he married 18-year-old Kathryn Manley of Powell County. Together they had three children: Kathryn ("Teddy"), John R., and Clifford.

In February of 1920, Kathryn Manley Quigley contracted Spanish influenza in Powell County shortly before a planned visit to Helena with her husband. Less than two weeks later, she died in Helena of pneumonia, a complication of the disease. Her untimely death was widely mourned. Her casket was completely covered with flowers, and an extra automobile was required to carry all the floral tributes to her gravesite in Deer Lodge's Hill Crest Cemetery.

John R. Quigley Jr. would remarry twice in his lifetime, but it is said he never got over Kathryn's death. At the time of his death in Butte in 1947, his wife Mary Quigley was living in Los Angeles.


John Quigley, the builder of Frontier Town, was born on the family ranch near Avon on Sept. 8, 1915. He died at Frontier Town on Nov. 23, 1979. The following is a very brief look at his early life.
Young John Quigley on the family ranch, 1916-17.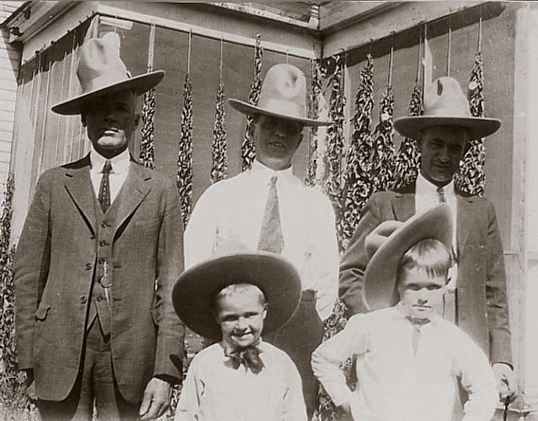 New hats for the Quigley men, 1920. Back row from left: John R. Quigley, Jr., two unidntified men. Front row: Clifford Quigley and John Quigley - who was learning how to cock his hat just so. John attended Three Mile Country School, and graduated from Powell County High School in Deer Lodge in 1933.
In 1933, John married Marguerite Kirwan of Deer Lodge. The couple had three children: Jack (1934 - ), Peter (1940 - 2004) and Kitty Ann (1944 - ). Together, they operated Lost Cabin Ranch, a dude ranch and ski resort north of Avon, Montana. They divorced in 1947.

John, Marguerite, & Jack Quigley, about 1939.

Peter and Jack Quigley, about 1943.

Kitty Ann Quigley, about 1947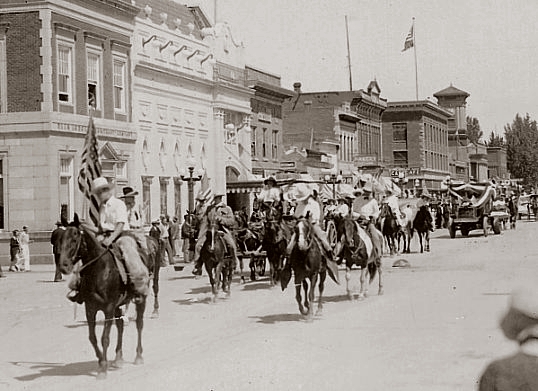 John Quigley riding with the flag in a Deer Lodge, Montana parade - 1936