| | | |
| --- | --- | --- |
| • DESCRIPTION OF THE RESORT | • THE LODGE | • THE "SNOW TRAIN" |
| • 1938 SKI ROSTERS | • WWII RESORT CLOSING | • POSTWAR CHANGES - DIVORCE |

Lost Cabin was a combination dude ranch, hunting lodge and ski resort opened by John and Marguerite Quigley in 1933-34. It was located on the Quigley Ranch about 15 miles north of Avon, Montana. Summer activites for guests included horseback riding, fishing, hunting and pitching in with the actual ranch work. Come winter, skiing and sledding topped the bill, with skiers ferried from the ranch to the slopes on a "caterpillar snow train", which was essentially a huge wooden sled pulled by a bulldozer.

Lost Cabin could accomodate eight to ten overnight guests. Guests arriving via rail would be met at stations in Helena, Avon, Deer Lodge or Butte. There was also a landing field at the ranch for air charter and private planes.

There was a dining room in the lodge where "Wholesome, well cooked ranch meals" were served, "...with fresh meats, poultry, eggs, vegetables, fruits, milk and cream plentifully provided."


Promotional postcard featuring John and Marguerite ("Patty") Quigley, along with various scenes of ranch life.






Photo taken from the top of the Continential Divide, 2000 feet above and loooking down on Lost Cabin. The view is to the west.


Lost Cabin Lodge, built by John Quigley 1933-1936. John had assistance from ranch hand Tommy O'Hearn (who is buried in the Quigley plot at Hillcrest Cemtery in Deer Lodge), and also from old-timer Rod Finley.
An addition was added to the rear of the structure in 1937-38. This charming building was clearly the "test run" for the techniques Quigley would employ in building Frontier Town more than a decade later.
CLICK ON THESE IMAGES FOR LARGER VIEWS IN NEW WINDOWS

| | |
| --- | --- |
| | |
| JOHN QUIGLEY (PETTING DOG) & TWO UNIDENTIFIED MEN. | The "great room" of the lodge. |
| | |
| MARGUERITE QUIGLEY IN THE LODGE KITCHEN | |
| | |
| MANMADE LAKE NEAR THE LODGE | THE LODGE BEFORE THE ADDITION, ABOUT 1936. |
CLICK ON THESE IMAGES FOR LARGER VIEWS IN NEW WINDOWS


CLICK ON THESE IMAGES FOR LARGER VIEWS IN NEW WINDOWS
THE SNOW TRAIN 1938 - A SHED ON A SLED, PULLED BY A BULLDOZER

THE SNOW TRAIN 1938 - MERRY SKIERS

HELENA AREA SKIERS, 1938. SEE ANYONE YOU KNOW?

Lost Cabin ski rosters from 1938. The signatures of over 100 Helena area residents can be seen on these guestbook pages, along with comments about their Lost Cabin experience. JAN. 23 1938 - PAGE 1 • JAN 23 1938 - PAGE 2 • FEB. 13 1938 • FEB. 22 1938 • MARCH 20 1938 - PAGE 1 • MARCH 20 1938 - PAGE 2 • MARCH 20 1938 - PAGE 3.

LOST CABIN SKI SLOPE • CLICK TO ENLARGE •

Lost Cabin ski cuties, probably 1938. Fourth from the left is Marquerite Quigley.


Lost Cabin ski party, probably 1938. Fifth from the left is Marquerite Quigley, sixth is John Quigley.

CLICK ON THESE IMAGES FOR LARGER VIEWS IN NEW WINDOWS


Lost Cabin closed for the duration of World War II. Even though he was an avid outdoorsman, John Quigley suffered from flat feet, which prevented him from enlisting in the armed forces. That didn't stop him from contributing to the war effort; in 1942 John, Marquerite and sons Jack & Peter moved to south-central Washington, where John worked on construction of the Hanford Nuclear Facility. He was superintendent for the R. D. Merrill and W. A. Carson construction companies, and also had a riding academy in the Hanford area during that time.
"Dad was always ashamed
he could not fight."
-- Kitty Ann Quigley Taaler
The Quigleys returned to Montana in 1945. John built this small log house in Avon for his growing family, which now included daughter Kitty Ann. The house is no longer standing.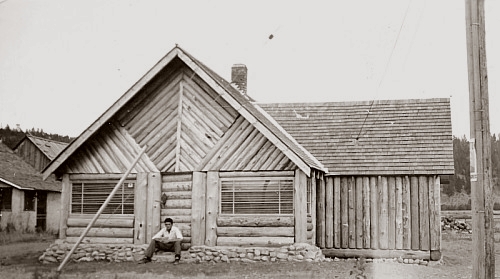 • CLICK TO ENLARGE •

John and Marguerite's tempestuous marriage dissolved shortly after their return to Montana. They divorced in 1947.

"My parents were both 100% Irish. How their marriage ever lasted that long is remarkable. My mother was just as talented as John, in her own way, with music and art."
-- Kitty Ann Quigley Taaler