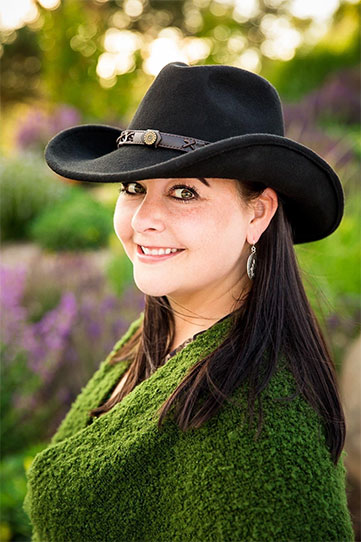 My name is Taegan Walker. I am the daughter of Aavo Taaler and Kitty Ann Quigley-Taaler, and the granddaughter of John R. Quigley, the creator of Frontier Town.
As a young girl in the early 1980's, I had the great luck of getting to live at Frontier Town. We moved home when I was just a baby, a couple of years after my grandfather had died. My mom and dad partnered with my step-grandmother, Sue Quigley, to manage the restaurant. I may have been a bit of a spitfire, telling it like it was, and trying my best to spout orders, but my mom tells me my grandfather would have been proud to have me as a granddaughter.
I had a fairy tale life at Frontier Town, and my memories are sweet and plentiful:

Pine-scented memories of the dining room, filled with Christmas trees that I got to help scout and decorate with my mom and dad.

Sweet spring Rocky Mountain air and laying on top of the sodded jail house among all of the hundreds of wild shooting stars and inhaling in their spicy perfume.

Being snowed in 10 feet deep and being hauled up to the house with the groceries on a sled behind my parent's snowmobiles.

Dancing with my dad at the annual Frontier Town Sheriff's Posse Party and watching my mama sing.

Helping make cheese cakes with Jean Price, and visiting Louise Fulbright in the gift shop to sit in the big buggy, like a mountain princess, among all the soft furs.

Memories of sitting quietly in the chapel and wondering about God.

Sitting in my saddle at the bar, drinking Shirley Temples and taking a turn at tricking the tourists into "smelling the bacon", a fun gimmick we played to ultimately give tourists a little squirt of water in the face.

Popping popcorn and piling into our Ford Bronco with our city friends to watch the bears come down from the mountain to forage for the night's Cow Camp Buffet leftovers.

Making gourmet mud pies in my grandfather's antique stoves and eating fresh Rainbow Trout with saffron rice every chance I could. With Firestick ice cream for dessert.

Of getting married to the love of my life just ten years ago in my grandfather's Frontier Town chapel , after the current owners of the property so graciously granted us permission.

As a child, I was completely unaware of the magical moment in time I was living, of how or why it all came crashing down, or that I would be praying my heart out to be able to get it back 20 years later. Growing up, I came to realize that what happened with Frontier Town was a terrible family tragedy. It was heart breaking for many members of our family, as well as our friends, when Sue Quigley decided to sell Frontier Town out of our family.

I spent a good many years very mad at my step-grandmother. But, as forgiveness heals, I have too. And I have come to realize that things do happen for a reason. What if I would have grown up feeling entitled to Frontier Town? Not having to work for it. Perhaps I would not have wanted the work and life. I certainly would not have had the opportunities to go down the roads and paths I have in the travel and tourism industry, an experience that has helped shape my vision of what I hope for the future of Frontier Town.

Frontier Town is currently privately owned by a wonderful family that I am so thankful for. Without them, Frontier Town would surely be in ruins. I hope and pray every day that the owners will change their minds and agree to sell Frontier Town back to me. I realize there are a lot of nay-sayers who can't get "you can't" out of their mouths fast enough. There are many, many things that need to be done and addressed if Frontier Town would ever want to become a tourist attraction again. Please don't think I have underestimated the many flaming hoops that will have to be jumped through. Give me a leotard, I am ready! This is my dream. I'm one of the crazy ones who don't listen to people when they have negative things to say. I just keep trying when I'm told "no", and I do believe one day Frontier Town will find her way back to our family.

So, for now - if you want to help support this dream of mine -- send up a prayer or two for my mission. If you're not religious, call on some good energy for us. If you're going up MacDonald Pass and feel like shouting it loud - my grandfather's favorite song was Johnny Cash's "Ghost Riders in The Sky". I like to blare that with the windows down, as I think he would like that.

I thank you all for the kind words and support on our Facebook page and for taking the time to check out this site as well. Frontier Town became what it was because of the love of the Montana pioneer spirit and the tenacity of one man. It was a huge success because it was loved by so many, and I hope one day we can celebrate Frontier Town's revival together.
| | |
| --- | --- |
| | |